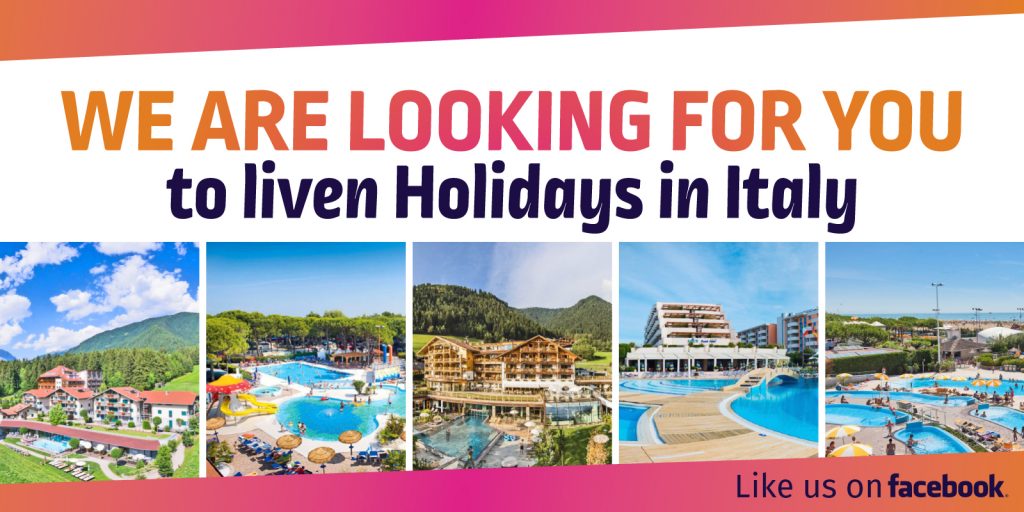 We have been working for over 30 years with international clients, developing tailor made activity program suitable for guests coming from all over the Europe and beyond; all our staff benefit from multilingual entertainer and people coming from foreign countries.
Our international team works hard over all year to recruit and train new staff whom we offer 3-6 months contracts for our international resorts / hotels / camping in the most beautiful and funniest cities in north Italy such as Bibione, Jesolo, Cavallino Treporti (all of them are nearby Venice) Lignano Sabbiadoro, or lovely and sunny location in the south of Italy, where our guests come from Germany, Switzerland, Holland, Denmark, Russia and other European countries. Working with us will also give you the chance to have a lifetime experience working with colleagues coming from all over the Europe.
We're looking for European English and German speaker young people aged 18-35, with or without experience in the touristic entertainment environment, willing to express themselves and perform on a stage or just have great time with our guest and make them laugh.
To work with us fill the form in the "Work with us" section, click here
Send your cv e photo job@jollyanimation.com and our HR department will contact you to arrange your phone or skype interview.
---
Being a touristic entertainer means:
Healthy working environment
Learn how to teamwork
Relating with other colleagues
Travel among the most beautiful places in Italy
Being protagonist
Experience great drama
Enjoy enjoying
Learning how to speak Italian or other European languages
Construct your career in the Touristic environment
---
We guarantee you
Free training
Fixed term contract according to Italian laws
Healthy and Injuries Insurance
Salary based on your experience level
Board and Logging
Travel expenses for mid-long period contracts
Office based assistance and Area Manager support
Chance to work till 10 months per year
Chance to be introduced to other Touristic Companies
Chance to grow professionally within our Company, becoming Jolly Animation representative for your own country
---
We recruit all year
Equipe Managers
Choreographers and dancers
Singers and actors
Couple and Group dance instructors
Sport Instructors and Tournament organizer
Fitness instructors
Set Designers
Costume designers
Sound and lighting technicians and DJs
Lifeguards
Active Entertainers
Children and teen agers Entertainers
Hostess